Terug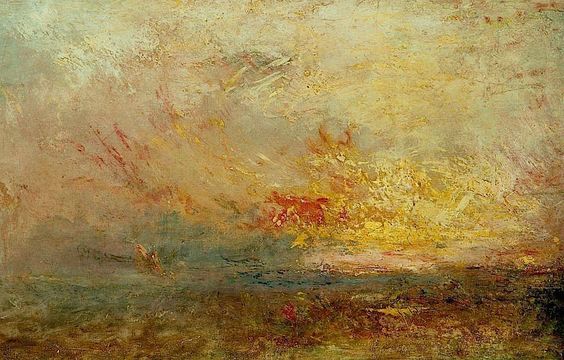 6. Wolken en water / CLOUDS AND WATER
William Turner
ca. 1840, olieverf op doek

32,2 x 49,1 cm
Het schilderij Wolken en water is het enige olieverfschilderij van William Turner in een openbare collectie in Nederland. Het dateert uit de laatste fase van zijn leven. Turner was zijn loopbaan begonnen als een uitgesproken klassieke schilder van geïdealiseerde landschappen. Hij trok zich op aan het voorbeeld van schilders als Rembrandt en Claude Lorrain. Gaandeweg ontwikkelde hij een eigen visie. Dit schilderij toont de overweldigende kracht van de natuur, die in die tijd als 'subliem' werd omschreven en waarin de mens maar een nietige bijrol vervult. Het scheepje op dit doek gaat bij de grootsheid van de natuur bijna letterlijk ten onder. De grote mate van abstractie van het werk doet zeer modern aan en inspireerde later abstract expressionisten als Mark Rothko (1903-1970) en Cy Twombley (1928-2011).

c. 1840, oil on canvas
32.2 x 49.1 cm
The painting Clouds and Water of 1840 is the only oil painting by Joseph Mallord William Turner (1775-1851) in a public collection in the Netherlands. It dates from the final phase of his life. Turner began his career as a distinctly classical painter of idealised landscapes, who drew inspiration from the work of Rembrandt (1606-1669) and Claude Lorrain (1600-1682). But he gradually developed his own vision. This painting depicts a blazing sky above a rough sea, highlighting the overwhelming force of nature, which was described as 'sublime' at that time. Humans are insignificant in comparison. The small ship in this painting almost literally goes under when it encounters the might of nature. Danger and beauty are not mutually exclusive, but intimately entwined, producing an intense, almost incomprehensible experience. The high degree of abstraction in this work looks very modern, and later inspired abstract expressionists like Mark Rothko (1903-1970) and Cy Twombley (1928-2011).
William Turner
* 1775 Londen
† 1851 Londen